For this post, My Cabinet Hardware is going to put the spotlight on one of the manufacturers that we carry. To start with a bang, we have chosen to feature Notting Hill Decorative Hardware.
Notting Hill Decorative Hardware was established in 1996 in Lake Geneva, Wisconsin. They have coined their motto as "The Beauty is in the Details" and it shows! When it was founded, Notting Hill's goal was to fill a unique luxury hardware niche. They started with 12 designs and have grown their collections to now include over 200 designs and counting!
There are so many details (there's that word again) that make Notting Hill Decorative Hardware a stand-out in this market. The first item of note is that their hardware is all made right here in the USA. As they have chosen to have their pieces produced here in the States, they can offer some stunning hand-painted hardware options as well as enameled pieces. Take a look at the gorgeous hand-tinted detailing on the Fruit Bouquet knob here from their Tuscan Collection.
This stunning knob is in their Hand-Tinted Antique Brass finish. It also comes in a Hand-Tinted Antique Pewter or Hand-Tinted Brite Nickel finish.
The enameled finish offered by Notting Hill Decorative Hardware can be seen in their Prairie Tulips collection (shown below) and the Royal Palm collection as just two examples.
Looking to re-do your home and be philanthropic at the same time? Notting Hill has a suite called Hope Blossom which is a part of the Nouveau collection. The majority of the sales proceeds go to Voices of Hope a humanitarian organization dedicated to helping those in the South Sudan.
A few of their most endearing and most popular collections are Delaney's Rose and McKenna's Rose - the namesakes of the company owner's daughters. Below is the Delaney's Rose knob and the McKenna's Rose pull.
The intricate detailing of the King's Road collection is also long-standing customer favorite. The embodiment of the word opulence is shown off in this collection's 24k Satin Gold finish option. The Kensington 3" Bin Pull in the 24k Satin Gold is shown below. Seriously - this collection is a must-see!
If you haven't been impressed enough with all that you have seen, maybe some stunning items from the Kitchen Garden collection featuring real pearls will grab your attention. Maybe it will be the Tropical collection with more hand-painted and enameled pieces that will reel you in.
And if all that isn't enough, this will seal the deal. Many more people are working and schooling from home these days. With more spaces being converted to home offices and remote classrooms, a little boost in the organization department would be super helpful! Check out Kitchen ID. With several pre-engraved options as well as the opportunity to have pieces custom engraved, with up to 2 lines and 30 characters of text! Check out their latest post on Facebook about this:
Think of all the places you could use a little more organization. Kitchens and bathrooms, vacation homes and rentals, Airbnbs, company offices... so many places!
Finally, Notting Hill really brings the upscale look and feel with their Jewels collections. The Jeweled Lily, Victorian Jewel, and Celtic Jewels can be crafted with several stone options. Check out the old favorites as well as the newest options of Red Jasper, Coral, Turquoise, Green Malachite, and Pink Shell and Pink Cat's Eye.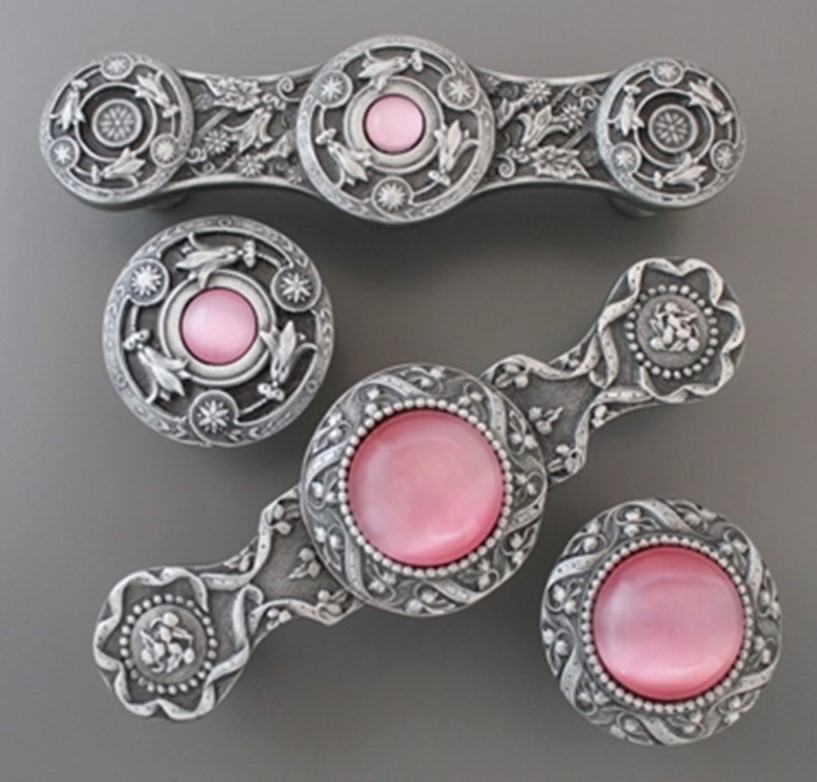 After everything we have shown you, we have one last nugget of information about Notting Hill Decorative Hardware. They can do custom / special orders! If you have an enamel color you want to see or if the collection you want isn't available in the finish you want, Notting Hill can probably make it for you! Contact us for more information regarding minimum order quantities, lead times, and costs.
Hopefully you will fall in love with Notting Hill Decorative Hardware the way we have! If you have any questions please let us know. You can contact us anytime.
Recent Posts
For this post, My Cabinet Hardware is going to put the spotlight on one of the manufacturers that we …

We posted on our Facebook wall this morning a bookshelf transformation from Baldwin hardwa …

Standard hardware that comes with your furniture is fine. Sometimes it matches your style but other …