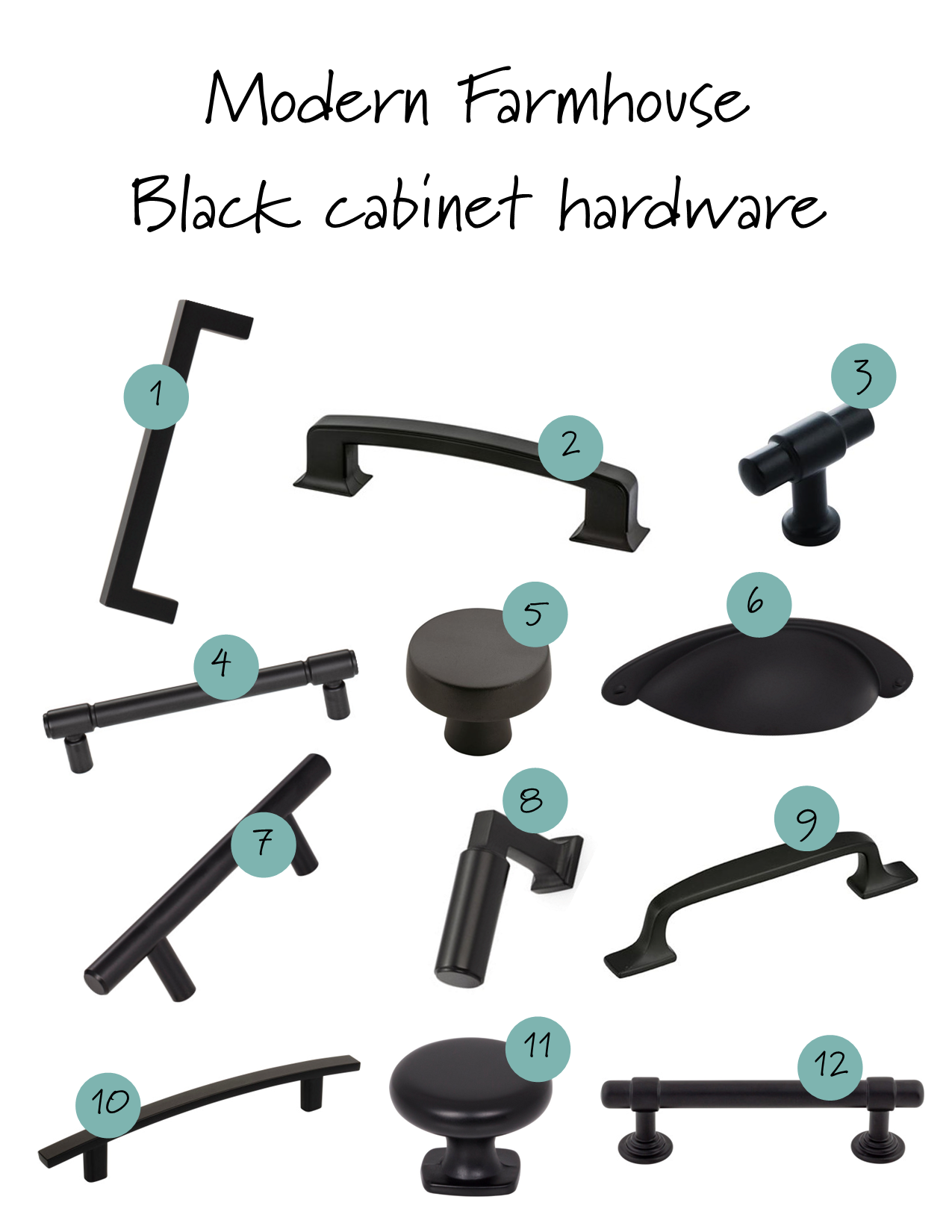 The Modern Farmhouse look is everywhere. The mega hit HGTV show "Fixer Upper" with Chip and Joanna Gaines brought this style front and center and it has been going strong ever since. There are so many ways to bring this design style into your home, and one of those is through cabinet hardware. The look is attainable using all different colors and finishes, but we think that there is just something about the black that just screams modern farmhouse. Here are some of our favorite picks to bring this look to your home. In no particular order, here we go!
1. Starting things out is the It collection from Atlas Homewares. This pull is 5 1/16" (128mm) but the collection comes in 4 total sizes and 8 finishes. This pull is item# AHW-A874-BL.
2. Next is Berenson Hardware's 6" curved pull from the Hearthstone collection. The pull we chose is item# 4080-1055-P. The Hearthstone collection comes with 1 knob and pulls in 7 sizes. In addition to the matte black finish shown here, there are 6 other finish choices.
3. Third pick is from Hickory Hardware. This matte black pull knob is from their Piper collection. This collection features 2 styles of knobs as well as pulls in 4 popular sizes and all are available in 5 finishes. This knob is item# H077850-MB.
4. Pick number 4 is from Top Knobs. This is the Clarence series from their Regent's Park collection. The Clarence suite is available in a whopping 8 size options and 6 finishes! This pull is item# TK3114BLK and it is a 6 5/16" (160mm) pull in their flat black finish.
5. The number 5 pick is from Amerock's versatile Blackrock collection. This is a 1 5/8" round knob - item# BP55272-BBR. Blackrock comes in 7 drill center selections and 4 knob sizes. There are also 6 great finishes to pick from. This knob is shown in the black bronze finish.
6. This is the Lyon collection from Jeffrey Alexander. This cup pull has decorative faux screws on the sides giving it more visual interest. This is item# JA-8233BLK. The Lyon collection has this cup pull which comes in a total of 12 finish options and there is a matching knob available too.
7. This bar pull is from Elements. This is their Naples collection 3" matte black pull, item# ELE-136MB. This collection is one of the most extensive that we carry. There are 13 drill center options and there are 7 finish options available in most of those drill center options.
8. Next, Schaub and Company has the Haniburton collection that works really well in the Modern Farmhouse. This is a pull style knob and is item# SCH-472-MB. Haniburton comes in 6 finishes and there are 4 knob styles and 5 drill center choices.
9. The Highland Ridge collection from Amerock. This collection offers many knob style choices as well as pull sizes from 3" to 18" and also offers a cup pull style. Shown is a 3 3/4" (96mm) straight pull that is item# BP55317-BBR.
10. Elements offers their Thatcher collection to bring in that modern farmhouse touch. Their pulls in this collection range in size from 3" to 6 5/16" (160mm). The pull shown here is a 6 5/16" (160mm) curved bar pull in matte black and is item# 859-160MB.
11. This is the Belcastel 1 collection from Jeffrey Alexander. This knob is item# JA-MO6303MB and it is a 1 3/8" diameter knob in matte black. Belcastel comes in 11 finishes and in 5 pull sizes.
12. Last up is the Ellis bar pull from the Ellis collection and series by Top Knobs. This is item# TK3001-BLK and it is a 3 3/4" (96mm) pull. The Ellis series has both knobs and pulls and the pulls range in size from 12" (305mm) appliance pulls to 3 3/4" (96mm) pulls.
While we have shown you 12 great options for bringing the modern farmhouse style into your home, there are tons of other options on our website. If you would like help finding other options or finishes, please reach out here. We would love to help you find the perfect hardware for you!
We also just recently helped Andrew and Anna pick out hardware for their recent modern farmhouse kitchen renovation. See all of the stunning before and after pictures and all of the details about their design in our blog post here.
Recent Posts
Berenson Hardware has brought industrial vibes to the forefront with their 2 brand new collections! …

Customer Transformation – Before and After Andrew & Anna's kitchenIf the modern farmhouse is a look …

The Modern Farmhouse look is everywhere. The mega hit HGTV show "Fixer Upper" with Chip and Joanna …